Why hire actor Harris Bloom?
Once upon a time, commercials were pretty much dominated by good-looking, charismatic stars hawking and/or pretending to be fascinated by cleaning products and animated software.
This Parade of Gorgeous intimidated audiences, who realized they could never be good enough, smart enough, or pretty enough, to use any of the products and services advertised. But with Harris Bloom, all that changed…
Directors discovered the casting secret to success: hire Harris, and consumers can watch entire commercials without fear of feeling like under-achievers.
This is an actor who can give you advice on life without you wanting to punch him in the throat.
His ability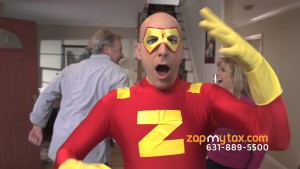 to portray forgettable characters is memorable. His willingness to wear eye-popping costumes is legendary. And his command of one-liners is the buzz of every casting conference.
But, you say, you need an actor who can handle commercials and television and film?
Then you'll be delighted to know that Harris is not off-limits to you!
He has appeared on screens large and small, and even on the little talking box (aka: "radio"). With a range that spans from "manic focus" to "potted fern", all he needs is a little direction from, say, a director.
And that brings us to you… because your next question is:
"How do I hire actor Harris Bloom?"
Like working with Harris, it's super-easy! Just contact him here. Click to download Harris Bloom Acting Resume