Harris performs as a stand-up comedian at dozens of comedy shows, events, and fundraisers each year.  His comedy act lasts between 15 minutes to an hour and is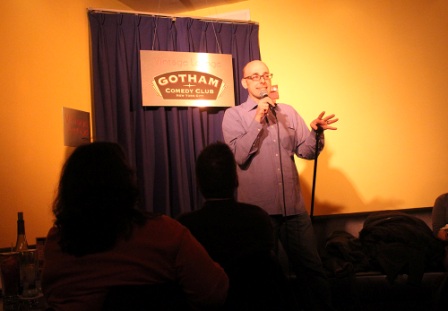 suitable for audiences of all ages and backgrounds.
If you're looking for nightclub-style comedy, Harris can coordinate and produce a night of several different and very talented comics, for a full-blown evening of laughs and entertainment.
With years of experience as a successful fundraiser comedian for various non-profit groups (including his own animal rescue), Harris can not only find very funny comics to fit your budget, but he knows their style and material. This allows him to select the best comics for your group, to ensure the most enjoyable show possible, while working within your budget.
"I love working with Harris.  When we book comedy gigs his name almost always comes up because he consistently comes through.   People love his brand of humor – it's clean and always surprising."  ~ Bernie F. Owner/Booker NY Hysterical Society
As the father of two children, Harris likes to keep his routine appropriate for any occasion. Yet, even as a "clean comedian" you'll enjoy how he keeps his jokes "edgy" without falling into offensiveness.
And as a Jewish comedian, Harris delights in fresh, funny, and original Jewish comedy that resonates with fellow "members of the tribe". He's in his element in front of a congregation – oy, like butter, they melt!
Harris is a regular stand-up comedian in comedy clubs in New York City and clubs in the New York, New Jersey, and Pennsylvania regions. In NYC, he can often be found at the following venues:
Broadway Comedy Club
Gotham Comedy Club
NY Hysterical Society
"Harris Bloom is smart, clean and clever. His likability transcends easily and his quick wit keeps the audience in hysterics."   Rich C. – Owner/Booker Steamroller Entertainment
Harris is available as a stand-up comedian or as an emcee for:
variety comedy nights
Temple comedy nights
Jewish event entertainment
church events
corporate entertainment
conventions
sales meetings
holiday party entertainment
trade shows
awards banquet
company parties
grand openings
weddings
any occasion when you want to have a great time!
Click here to book Harris as a stand-up comedian for your next comedy show or as comedy entertainment for your next event.